Savoring a snack in quaint Quanzhou
By XING WEN | China Daily | Updated: 2019-02-19 08:01
菲律宾申博太阳城官网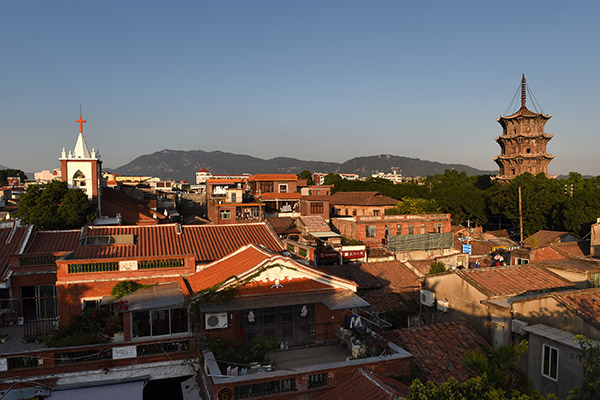 My appetite for sampling the food of Minnan, or southern Fujian province, led me to take a stroll down Quanzhou's Xijie (West Street), which is lined with the oldest and most authentic snack bars and restaurants in the city.
I soon found that many other people had a similar plan for the Spring Festival holiday.
Hordes of visitors had already formed long lines in the drizzling rain to buy local delicacies like peanut soup, tusundong (sea worm jelly), hailijian (pan-fried oysters in scrambled egg) and jiangmuya (braised duck with ginger).
I walked among the noisy crowds before stopping at one shopfront. From the signboard over the door I noticed that the shop owner had been selling manjiangao-a local dessert made of sweet pastry layered with brown sugar, sesame seeds and crushed peanuts-for nearly 40 years.
So I decided to join the long line.
As I waited I had a look through the open door, where I could see old wooden furniture and a black coal-burning stove inside the store.
Near the stove, a middle-aged man was skillfully frying batter in a pan and adding peanuts and other ingredients to it.
He was chatting in Hokkien to a woman in a white apron, who was cutting up the finished pastries and packing them before handing them out to the customers waiting in line.
About 20 minutes later, I took my first bite of the dessert, which tasted like a moist sandwich cake.
It's said that the sweet food was created to feed the Manchu troops serving the Qing emperor in their fight against the armies of the Taiping Heavenly Kingdom (1851-64) that had marched into Fujian province in 1855.
That might explain why it was so filling.