Foreign hand makes a mark
By Xing Wen | China Daily | Updated: 2019-02-20 08:06
菲律宾申博太阳城官网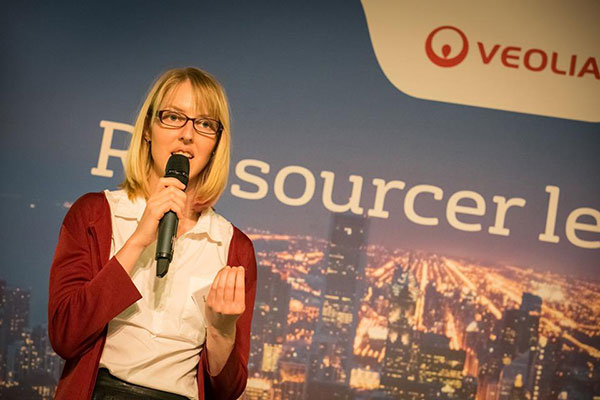 The work of an Australian researcher studying in China is being used to develop the water supply network plan for the Xiongan New Area, Xing Wen reports.
Due to the rapid urbanization process in China, high-rise blocks are springing up in both business districts and residential quarters around urban areas in the country.
That inspired Kate Smith, an Australian graduate from the School of Environment at Tsinghua University, to research energy consumption in water distribution systems, and specifically on how to reduce the amount of electricity used for pumping water to high-rise buildings in cities.
"In my hometown, Cairns, most of the houses have one or two stories. But in Beijing, most of the people live in tall buildings which definitely need water to be pumped," says Smith.
Her research has brought about the birth of a practical method to calculate and optimize energy consumption for urban water supplies, and even got acknowledgment from the government.
In fact, some of her research results have been used for the water supply network plan for the Xiongan New Area in Hebei province, about 100 kilometers southwest of Beijing, which is being built to promote coordinated development of the Beijing-Tianjin-Hebei region.
The 32-year-old obtained her doctorate in environmental science and engineering last month. And due to her strong academic publication record, outstanding research background and active participation in public services, she became the second international student in the university's history to be awarded the Tsinghua Top Grade Scholarship, winning her a prize of 15,000 yuan ($2,220) in November.
Since she came to China in 2011, she has been involved in various activities to help vulnerable groups, giving English classes to migrant workers' children and telling stories to children with cerebral palsy.
She says the reason that international students like her engage in these kinds of activities is because while they are doing something that might be of value to other people, they can also learn from the experience.
"Most international students in Tsinghua have a passion for improving people's lives," says Liu Shuming, Smith's supervisor. "What Kate does is also to combine her expertise with public service."
In 2014, Smith joined RISE, a nonprofit organization that was founded by the students of Tsinghua's School of Environment in 2012 which was dedicated to sustainable rural development.
The organization, which gathered both Chinese and international students of Tsinghua University, has helped to improve the drinking water quality for villagers in many rural areas in the Ningxia Hui autonomous region and provinces of Gansu and Shanxi, providing materials for building more than 1,200 "biological slow filters".
Smith, together with other RISE members, visited Liangjiabu village in Shanxi province in 2015, where the groundwater used by villagers was contaminated with arsenic, a latent health hazard. They spent six months going back and forth between Beijing and the village to test different sand-based water filters and compare the results, to figure out a low-cost and effective method to reduce the arsenic level.
Finally, they installed filters for over 40 households in Liangjiabu and their door-to-door visits also raised the villagers' awareness of water safety.
"People often don't have all the information, so you just have to go and explain to them what the problem is. Hopefully, in this way, more people will know that there is a problem," she says, who later used those experimental results to write a paper with her teammates so that they can help more people who also need an effective arsenic-removal technique.
She says the university provides a good environment for international students.
"It tries to help us put our ideas into practice," she says, adding that she thought of implementing an international student ambassador program to help newcomers in 2016, and quickly gained the support of the university.
She was also encouraged to participate in international activities including the China Australia Millennial Project, the Yenching Global Symposium and the China Trade Week Morocco.
Besides, she and a friend have published a Chinese book to share how they experienced Chinese culture from a foreigner's perspective.
"The main thing for me is the understanding of another culture," she says, who's fluent in Chinese. "Being in a certain country and having contact with the people does help."
Contact the writer at xingwen@chinadaily.com.cn
Most Popular